On this page we're answering some of your most frequently asked questions briefly and comprehensibly. If you still have open questions, write us a line or two in the chat below, at feedback@subs.tv or directly in the SUBS app @jessi or @kev.
Q & A
What does SUBS™ even mean?
---
Specially in social media, people oftentimes use "subs" as an abbreviation for "subscribers" or "subscriptions". We thought that suits well! In order to distinguish the brand "SUBS™" from the subscribers "subs", we write the brand in capital letters and add the trademark symbol as identifier for a brand term. Accordingly, on SUBS™ we also use the term "to sub" a channel / a person as an easier way of saying "to subscribe / to follow" a channel or a person on the platform.

No sandwich 🥖
No porn 🍑
---
Which content formats work best?
---
We support creativity and believe it's important to have freedom of choise in order to do so. This is why we try to enable as many different content formats as possible like landscape & portrait, photo & video, permanent & shortterm. This means, even though we prefer 9:16 & 16:9 formats, we also allow custom formats for your posts. The ideal Formats photos 1080:1920 or 1920:1080 px
videos 720:1280 or 1280:720 px thumbnails 600:600 px It's possible to upload in 4k, it just doesn't make any sense 🤓
---
What are posts & stories?
---
Posts
stay permanently SUBS™ and are a great way of building a great social appearance on the platform and expressing your passions. Posts can be titled, described in words and up to 5 topic tags in ordner to be descovered by other users in the explore section. You should only tag topics with care and make sure they are the right ones to correctly represent and describe your content. Stories are visible to your subscribers for 24 hours after publishing. They are ideal for close communication and keeping your people updated on your latest activities and acchievements. When published, they appear at the top of your subscribers SUBS Feed. Users who are not subscribed to your channel can also descover your Stories within Explore – New Stuff section.
---
What about sensitive content?
---
SUBS is intended for anyone who is at least 13 years old. For this and for other reasons, we will not accept violence or porn on this platform. However, any form of art is welcome here, and that includes act photography. For this we have built a not safe for work (NSFW) filter, whereby NSFW marked content remains hidden from under-18-year-olds and all those who just generally don't want to see such content and therefore have the NSFW activated. After all, SUBS is a friendly place for everybody. However, we have the responsibility to grow a healthy business, therefore please read the community guidelines before publishing sensitive content at subs.tv/community. Respect others ☝🏼
Stay clean ✌🏼

How to turn off the NSFW filter? Check out this video: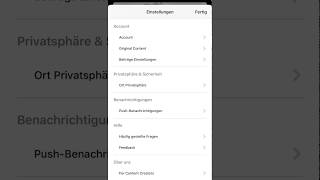 ---
What can I do on SUBS™?
---
Whatever your heart desires! Be your best self, do things you're passionate about and most importantly, share it with a comunity of real people. SUBS™ is a great place to express yourself in photo 📸, video 📹 & text ✉️. We offer a great variaty of tools we've created for you to use with ease. And of course, whereever content is created, there's a lot interesting stuff to see & new things to discover as well. Be creative 🤪
Be kind ☺️
---
How do I get "verified"?
---
We believe in the power of real people, and want to prevent fake accounts & bots as much as possible on SUBS. This is why we want to enable a verification as early as possible, and automate it. Now, you've probably already seen a couple channels with the verified hook. We are now currently moving the person verification to a professional identification service company, to keep your data in safe hands and to better withstand a great outbreak of verification inquiries. These services are expensive, and we are taking this opportunity to do something good for the planet planting 1x tree for each verification. The overall costs for verification + tree will be at 3 – 4 € which you will have to carry yourself. But hey, it's your verification & your planet at stake 🙂
Let us know what you think about this approach in the chat! 🤙🏼
---
---
Tutorial Videos
---